With the help of Pupi, Black Mickey creates the first flame of his life in a 1.4-kilo giga size. Watch the video and copy it at home too. 🙂
The process of making a Giga flame burger:
Making the flame dough:
Grind 50g of yeast into 2dl of lukewarm milk, then add 1 tbsp. sugar.

In a separate mixing bowl, add 1 dl of lukewarm water, 1 teaspoon of salt and the yeast mass (cuclit) to 1 kg of flour.


Knead the dough and cover and leave to rise for at least half an hour.
Once we have started to leaven the flame dough, meanwhile we make the beef patties to taste with salt and pepper, even grated cheese, and finally toast the bacon strips.
After the flame dough has risen quite a bit, we form a circle from it with our lightly oiled hands and we put it into the well-heated oil. 
Once one half of it is ready to bake, turn it in a sudden motion with the help of a tongs and bake for a few seconds until that half is also nicely cooked. Finally, use a paper to drip off excess oil. 
This is followed by the assembly of the burger layers:
A small grated cheese is sprinkled on the flame as a binder
Chili ketchup we drip on it
The chopped up with roasted garlic and rosemary sprinkle a little
Put the roast beef patty on top With Black Royal dripping
Put two slices of fried bacon on it
Some slices of tomato
Fresh crispy sali mixture
A couple of pcs Jalapeno slice
Topped with a little grated cheese
Then cover with the other flame
Tip:
Brush the flame with rosemary oil, because the guys think it's even more delicious!
The end result: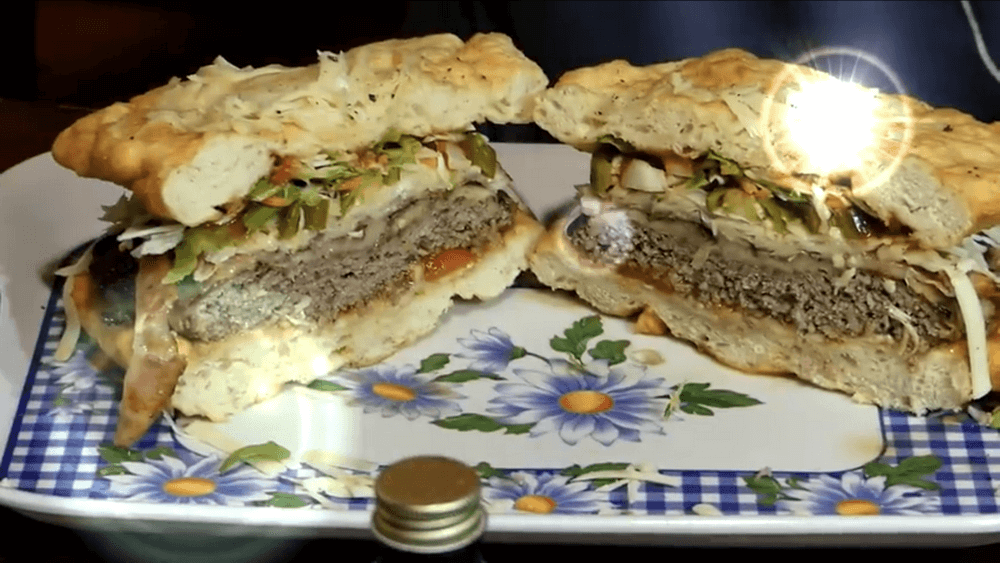 A hearty brutally delicious giga flame burger.
Have a good appetite! 🙂